Insurance Loss Evaluations and Claim Settlement Support
Richard Norman & Associates has provided expert Construction Consulting services to Insurance Companies for over 20 years. Areas of expertise provided include the following:
Inspect property losses all over the Western United States, Alaska and Hawaii.
Photographic and video recordation of damage, preferably prior to the loss being disturbed.
Establish detaled scope of pre-loss conditions.
Work with Insured to obtain original construction costs or new repair bids.
Prepare detailed spreadsheets of actual costs, particularly on Builder's Risk losses.
Prepare detailed cost estimates to return structures to their pre-loss condition.
Analyze and/or produce detailed CPM schedules for delay-in-completion claims.
Work with Adjusters, Public Adjustes and Insured's to settle losses.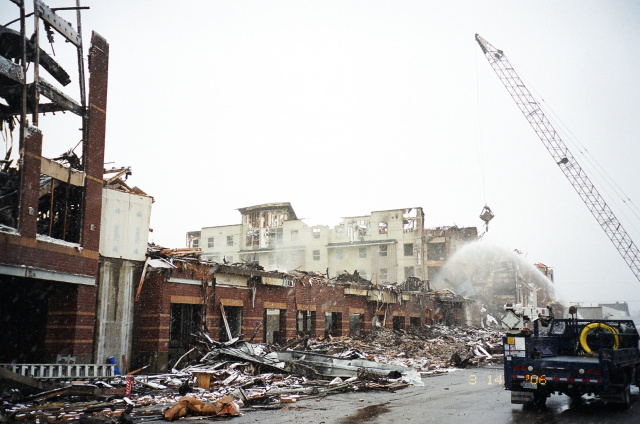 Causes of losses include:
Fire/explosion
Flood - natural or mechanical
Water Intrusion/Mold
Freeze/Thaw
Hurricane/Tornado/Wind
Hail
Soil Movement/Subsidence/Slide
Earthquake
Collapse
Vandalism
Vehicle/Aircraft Structure Impact
Some notable losses worked on over the past 25 years have been:
Napa and Sonoma County wildfires, California.
Napa Earthquake damage, Napa, California.
Hurricane Sandy, flooding and property damage, New York and New Jersey
Nenana Heating Services explosion and fire, Cantwell, Alaska
Shaklee R&D Facility roof collapse, Hayward, California
Sky Harbor International Airport Light Rail Station leaks, Phoenix, Arizona
High Altitude Army Aviation Training Site roof leaks, Eagle, Colorado
Emmonak School site subsidence, Emmonak, Alaska
Castlewood Country Club weir collapse, Pleasanton, California
Gonzaga University fire, Spokane, Washington.

Fibrebond manufacturing plant fire, Minden, Louisiana.

Kailua flood damage, Kailua, Oahu, Hawaii.

Grand Forks AFB flood damage, Grand Forks, North Dakota.

Seahawk Stadium sealant failure and water intrusion, Seattle, Washington.Venetian Hotel rain damage, Las Vegas, Nevada.

Venetian Hotel rain damage, Las Vegas, Nevada.

Venetian Hotel rain damage, Las Vegas, Nevada.
Procter & Gamble slabs freeze/thaw damage, Bear River City, Utah.

Elmendorf Air Force Base frost heave damage, Anchorage, Alaska.
Western Kauai Resort, Hurricane Iniki, Kauai, Hawaii.
Minyard's Food Store tornado damage, Fort Worth, Texas.
Brook Hollow Golf Club hail damage, Dallas, Texas.
The Muller Company commercial properties hail damage, Phoenix and Scottsdale, Arizona.
Northridge Earthquake damage to commercial, retail and residential structures, Los Angeles, California.
Cardinal Stadium supercolumn collapse, Glendale, Arizona.
Trendwest Resorts Hotel balcony deck failures, Seaside, Oregon.

ILSI facility aircraft crash, Reno, Nevada.
CONSTRUCTION DEFECTS INSURANCE LOSSES ESTIMATING HABITABILITY PERSONAL INJURY SCHEDULING